If you want to embrace open operating systems, quit the Microsoft monopoly or the Apple cult, Ubuntu is one of the most powerful operating systems based on the popular open source Linux kernel. It can do everything that the costly operating systems, only oh so much more, and for free!
1. VLC
The VLC player is your swiss-army media player: it'll show whatever film you throw it at it, play all your music formats. The multimedia player, streamer and encoder features a huge amount of codecs, translating all manner of formats to your Ubuntu setup.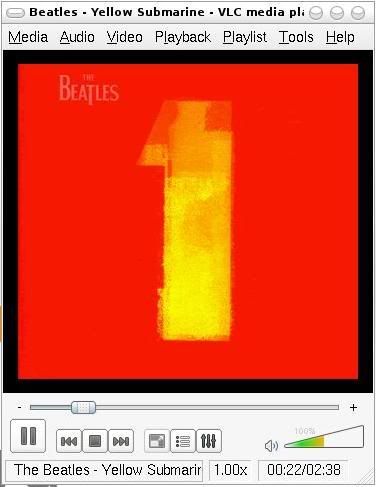 Since Ubuntu doesn't come with proprietary codecs, VLC is the first piece of software you'll want to install on your fresh new Linux box. As one of the first players to offer support to play encrypted DVDs, you can expect this media player to satisfy all your needs now and well into the future.
You're likely to be using Ubuntu for browsing the web, so one of your first priorities is to download the Flash player as soon as you have your audio/visual software and codecs setup. By default the open source operating system doesn't come with either Macromedia Flash nor Sun Java JRE support, but the beauty of Ubuntu is that you'll only have to type a few simple commands in the terminal window to get your web browsing setup properly and fully functioning.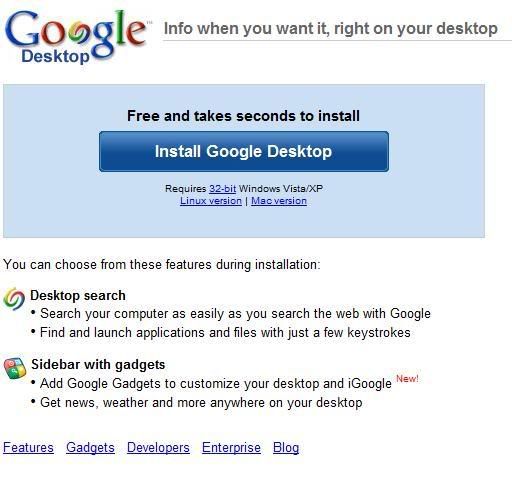 Google desktop, though not open source, provides one of the best search applications to quickly find emails, files on your computer, music, photos, chat histories, documents, PDFs – everything! After a simple install process, Google will be up and running scanning and logging every item on your operating system with access to them made simple and fast.
4. Open Office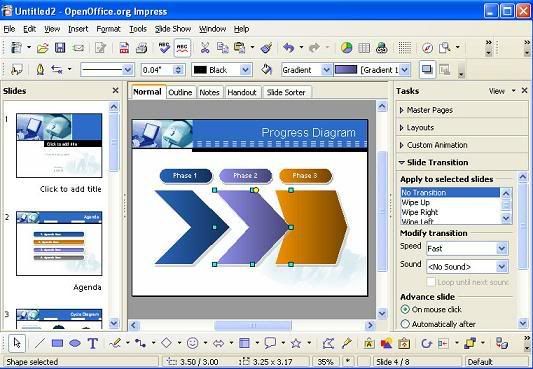 Another fantastic and indispensable app, no matter what your line of business. Open Office, the open source competitor to Microsoft's Office suite, is available to run on Ubuntu. Terminal window command line kung-fu makes installation and upgrading simple.
5. Appnr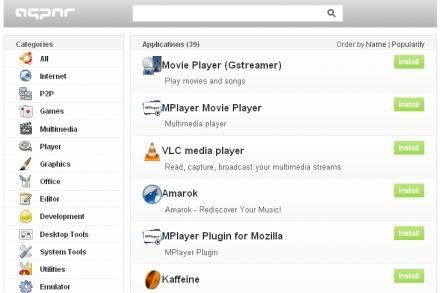 This should perhaps be on top of the list, but at least you've had a little play around with the terminal command prompt. If command line installation is too difficult, switch to Appnr, making installation of programs a breeze for Ubuntu newcomers. It's much more advanced that the default add/remove program, and allows you to browse for and simply install applications and tools with the minimum of hassle.
6. RhythmBox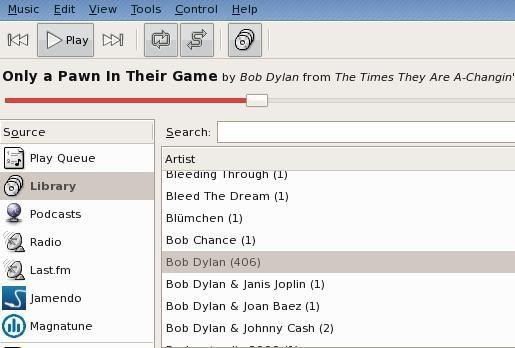 VLC isn't sophisticated enough to act as a music player on its own, so I'd recommend you get to grips with Rhythmbox, the default music player for Ubuntu. It has audio libary and podcast support, and native Last.fm song submission. Additional features like torrent support is why this particular application is so essential.
7. Brasero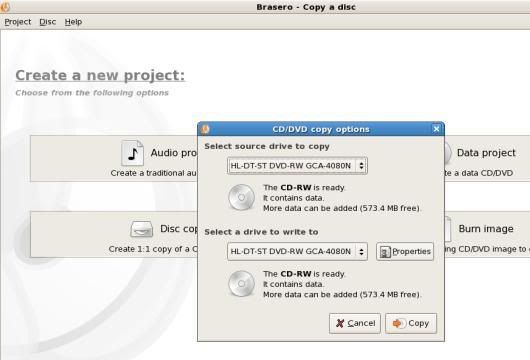 For a CD burning application you should go for the epicly titled Brasero, which makes it easy to burn CDs, DVDs and ISO images. The application also offers support for the creation of audio CDs, and SVCDs. With a mind-numbingly simple drag and drop interface, and advanced features like volume interface, Brasero is the ideal application for burning CDs and backing up your files.
8. Pidgin
For IM communication, Pidgin is very smart. Cleverly named, it support IRC, all the main IM protocols (including ICQ) and comes with a variety of useful plug-ins. It will save you time and space on your machine, and you won't have to install another IM application again because Pidgin supports all the protocols you'll neeed.
9. GimpShop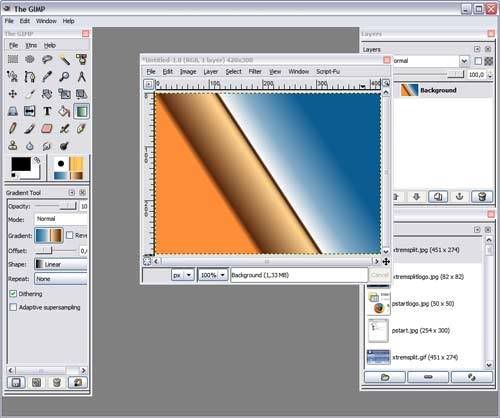 The perfect open source Photoshop replacement is GIMPshop, a modified version of the popular open source image editing software GIMP to look and feel exactly like Adobe's Photoshop. It makes the switch easy for those familiar with Photoshop on Windows or Mac OS X operating systems.
10. qOrganizer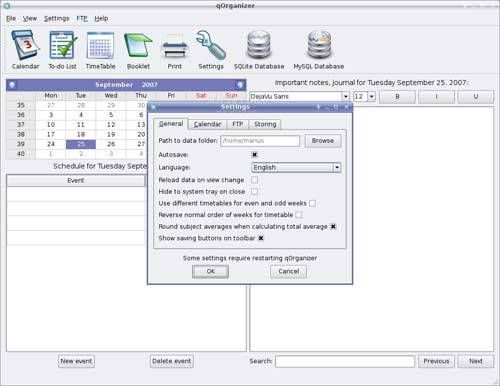 If you need an organizer that can be used to keep a calendar updated, a todolist in check, as well as setting a schedule, creating reminders and making notes, qOrganizer is it. With advanced setting and customisable features for students, it's obviously going to be easy to use.
11. Firefox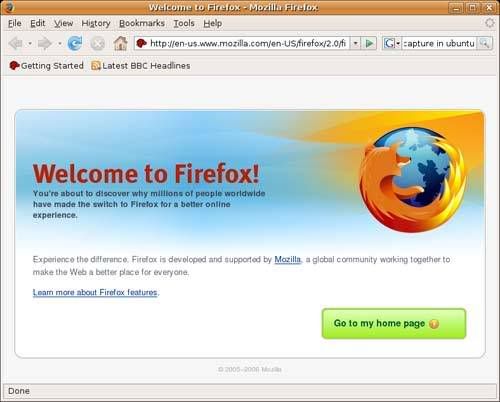 Like on any other operating system, Firefox is the king and the daddy of all browsers. The power of Firefox, apart from being so widely available for so many operating systems, is its ability to extend past the default basic settings with seemingly endless addons and themes, allowing you to make Firefox your own.
12. FileZilla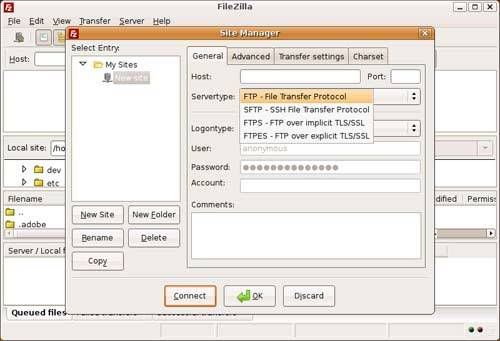 FileZilla is the way to go for FTP and SFTP client for a wide range of OS's and that's no different on Ubuntu. It's open source, easy to use, offers drag and drop support. With a huge following and community, it offers a range wide range of tips and tutorials should you get stuck.
13. jEdit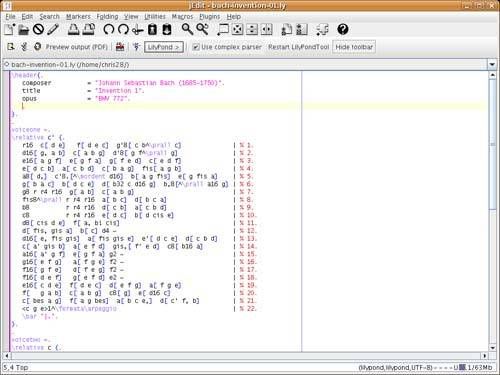 With so many software designers and programmers opting for the highly customizable Ubuntu, it's no surprise that there are so many text editors for the OS. jEdit is built by programmers, for programmers.
14. Freemind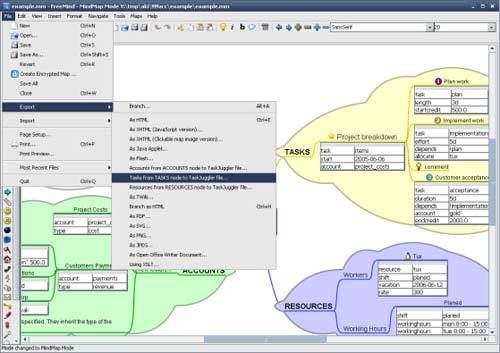 For mind-mapping, capturing ideas and planning outlines, Ubuntu is very powerful. As you create a proect you can very easily edit and rearrange your whole plan to reflect new ideas as the project grows and changes over time. Once you've started using it, you'll struggle without Freemind. This application is designed to keep you productive, focused, sharp, and on-topic all day, every day – it is truly essential.
15. Raw Therapee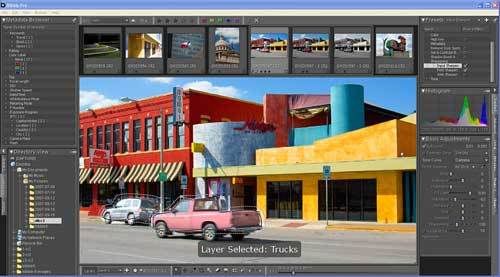 If you're looking for something a little more powerful than an image processor to deal with your photos (like GIMP) then try Raw Therapee. The photographer's photo editing software, it deals best with .raw images on Ubuntu. Raw Therapee is free and has an enthusiastic community that will have you editing pictures in no time. For editing raw pictures, choose nothing else.
This is a guest post by James Hill who writes for FinanceChoices.co.uk where he blogs about saving money, improving finances and efficient management.