Presenting, more flash based Tower Defense Games! =) – I had such a good time before when I posted a list that I thought was good (some of which, I still play when I'm bored) & it still is. But time comes when you're a bit bored of playing the same old stuff and need something new. Well, I did confronted some cool & new flash based tower defense games & after playing, here's what I have to share.
1- Mushroom Revolution Tower Defense Game (Play Here)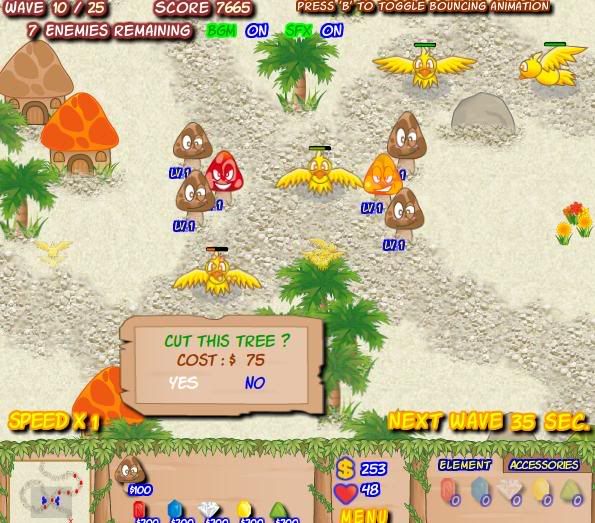 Mushroom Revolution is surprisingly a nifty tower defense game! Graphically & playability wise. There's actually a small mini map (like in original warcraft TD games) where you can scroll and everything to place towers. Now it's a bit strategic, you have to place the towers, called "Gomphus" here, upgrade them etc. You'll think, well it's normal, we do this in every TD, but it does has something cool to offer in form of Elements such as fire, water, thunder, wind and earth. You can buy these elements and insert them in your towers to give them a new ability.
Now the enemy waves have weaknesses which can be either of these elements. And then, there are accessories which you can also combine in your towers to give them extra damage & abilities. Level up your towers to get 2 and then 3 slots for elements. Try different combination (also given in the game) and level up your way to one of the most fun Tower Defence games I've ever played. Not to forget, you'll find tree's in the paths (best positions to put a tower), you can also cut them for a small piece of gold. So Try everything you can and enjoy.
2- Flash Element Tower Defense 2 (Play Here)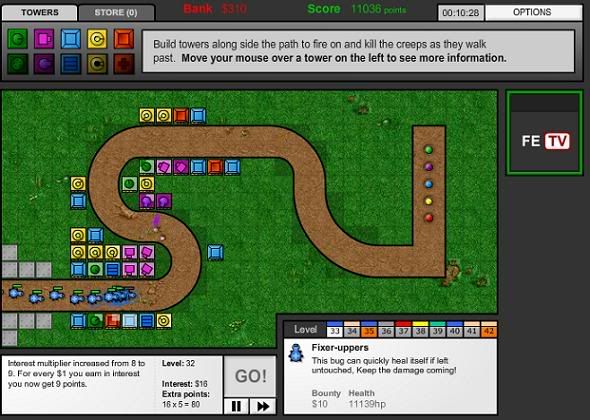 Flash element TD 2 is also another cool flash based tower defense game. The objective, everyone knows, how you play is what you should be considering. There are 5 type of towers that you can build & then there are upgrades (of-course). The thing you will notice is the store, where you can buy upgraded towers for tokens. You earn tokens after 10 levels which can be used for different reasons. Now @ flash element, the enemies objective is to take the elements right at the end of the maze, which they grab and run back. You need to kill them before they take it to their base.
When you kill them, the element / colored ball stays where the enemy dies which makes it a bit difficult for the upcoming levels. Now the trick is to save your tokens and at the end of a level, you can use 1 and put them where they belong. Making it more lengthier and fun.
3- Bloons Tower Defense 3 (Play Here)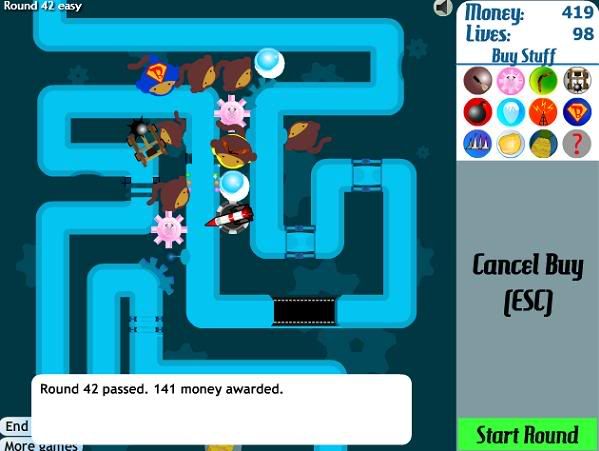 When I previously posted about tower defense games, I remember people recommending me to put on Bloons Tower Defense. I linked Bloons tower defense 1 and 2 & after a while I confronted Bloons Tower Defense 3.  It's a different kind of TD, yes, you can place different kinds of towers and upgrade them to pop all the incoming balloons but remember, if you use the spikes, exploding pineapples and glue, you can still survive without the need of a extra tower at a wierd place.
4- Omega Tower Defense (Play here)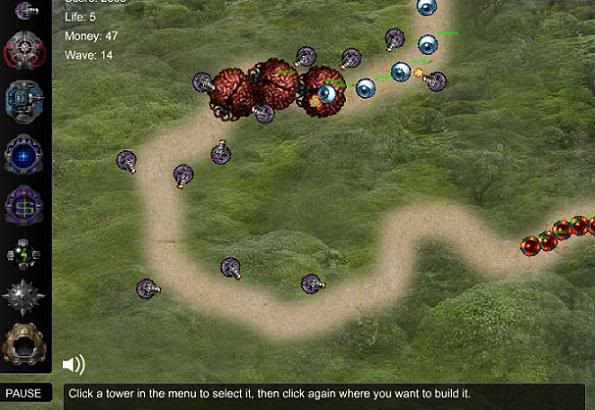 Omega Tower Defense is another tower defense game that you can play if you want some competition. It's hard and you won't get it the first couple of times you play. The designers tried to fit it in a space type scenario with different kinds of alien waves. The only tip I can give you here is to place the bombs where there's a mass wave. Rest is up to you.
5- Snafu Tower Defense (Play Here)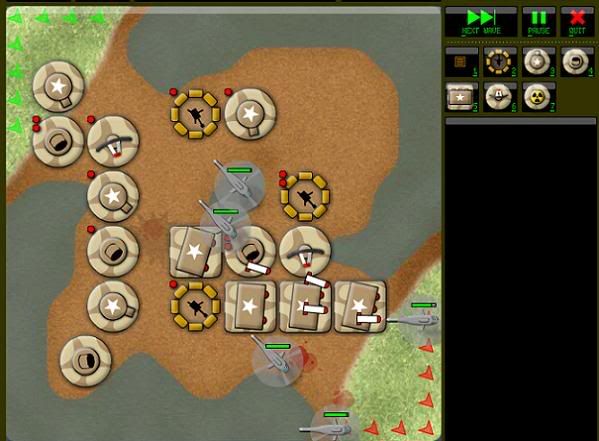 Snafu tower defense is a cool TD which offers a military style environment. Place towers according to the waves and always get ready for aerial attack, there are some specific towers that will hit them.
Also, don't forget to check out Gemcraft. It's a good TD but not that much challenging.
I did found many new other TD games but honeslty I didn't find much potential, worth posting. So here's a new list, enjoy and if there's something that came in and I missed it, post it in your comments. Happy Fragging.